If you're looking for the fastest, simple and effective way to strap a foot for plantar fasciitis you've come to the right place. Your morning heel pain can be reduced, and in some cases resolved by strapping.
On this page you'll learn from an experienced podiatrist how to strap your own foot, or someone else's to help reduce the pain from plantar fasciitis.
Before you get started. A word of warning.
Plantar fasciitis is not the only cause of heel pain. While it's the most common cause there are still hundreds of people who come through our clinics each week with sore heels who don't have plantar fasciitis. You can take our free online heel pain test to find out if your heel pain could be coming from something else. Even better, book in a session with our podiatrists to get your exact diagnosis and personalised treatment plan.
Video How To Strap A Foot For Plantar Fasciitis
In the above video podiatrist Tim share his simple at home strapping technique. You'll need to use a rigid strapping tape for this one. If you use flexible dressing tapes (like Fixomull or Hypafix only) you won't be able to get the tension required to reduce the twisting and pulling on the plantar fascia. 
The same goes for brightly coloured and flexible K-tape (also known as Rock-Tape, Kinesiology Tape and other brand names). For this technique to work you'll need to have rigid sports tape. Our favourite tapes in clinic are the premium varieties from Elastoplast (38mm or 50mm sizes are best for feet) or Leukotape. They stick well without tearing at the skin.
What Next After Strapping Your Foot For Plantar Fasciitis
While strapping your foot is a great way to reduce the demands on the plantar fascia (as well as your pain levels) it's not going to fix your heel pain problem for good.
To do this we need to do a combination of things…
Decrease demand ⬇️
Increase capacity ⬆️
Reduce the peak demands on the plantar fascia long enough for your body to repair any damaged tissues. This usually takes longer than the time your skin can handle being strapped up with tape. Good shoe choices for plantar fasciitis are a must. Also, you can replicate the load reduction on your plantar fascia you get from strapping tape by using an orthotic or arch support. At PridePlus Health our podiatrists guarantee your orthotic. 
You'll also need to increase the ability for your plantar fascia (and surrounding muscles) to tolerate load. We call this capacity building in podiatry. It will involve rehabilitation exercises which are often completed at home, in the gym or with your Exercise Physiologist. You can learn about how EPs and Podiatrists work together like a Formula One team here.
Frequently Asked Questions About Strapping Your Foot
What is plantar fasciitis?
Plantar fasciitis is an overload or overworking of a stretchy tissue on the bottom of your foot known as the plantar fascia. It's common, painful and something that us podiatrists see in clinic every day. It was previously thought to be a condition that self resolved. That is something that fixed itself over time. More recent research has debunked this with significant long term effects on physical health and mental health noted with long term heel pain.
You can learn all about plantar fasciitis on our detailed page here. 
What are the benefits of taping for plantar fasciitis?
The main benefits of strapping your foot for plantar fasciitis are pain relief. When the tape is on it takes some of the extra work away from your plantar fascia. This can allow your bodies healing to overtake the wear and tear.
What materials do I need for taping?
The best materials to use for strapping for plantar fasciitis are premium quality rigid adhesive tapes. Avoid flexible kinesiology tape as it will not provide the external support you need. 
If you have an allergy to adhesives used in rigid tape you can use a hypoallergenic under wrap. For this apply a hypoallergenic tape to your foot first then place the rigid sports tape over the top. We like Hypafix or Fixomull tapes in the clinic for this. The 5cm or 2 inch width is best for feet.
What Does Kinesiology Tape Do?
Controversial opinion. Kinesiology tape looks good, but when it comes to strapping for plantar fasciitis on the bottom of your foot looking good is not much use. Your pain levels are also unlikely to reduce with kinesiology tape unlike the rigid strapping tape.
Will Taping Cure Plantar Fasciitis?
It's unlikely that strapping tape alone will cure plantar fasciitis. It's an overload condition and you'll need to combine the load optimisation of strapping (shoes, and orthotics too) with capacity building rehab exercises.
Your can learn about the combination treatment of plantar fasciitis here.
Will strapping tape work on flat feet too?
If you have flat feet you can use this strapping technique as it will reduce the peak tensile pulling on your plantar fascia. This tends to happen more as you arch lowers and pulls your plantar fascia.
What about taping techniques for high arches?
We've tried this strapping technique on high arches thousands of times with great success. Because the tape pulls down on the medial (inside) part of your arch if reduces the amount of twist (inversion) your heel undergoes when you lift off. This is a common stressor on the plantar fascia for those with high arches.
An extra modification we sometimes need to use for those with very high arches is a 5th and final strip of tape that runs across straps 2 and 3 under the arch. This piece of tape helps hold the work horse straps firm against the skin.
About The Author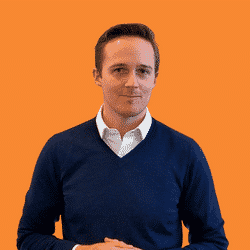 Podiatrist Tim Mulholland has lost count of the amount of times he's had to strap feet to reduce plantar fasciitis related heel pain. Combine over a decade of clinical practice with teaching podiatry students how to strap a foot for plantar fasciitis for 8+ years and wow. That's a lot of feet.
One final recommendation when it comes to strapping your feet for plantar fasciitis. If you get creases in the tape under your foot take it off and start again. You know the feeling when your sock bunches up when you walk? That unpleasant crinkle of your skin? If you tape and leave creases this feeling is there every step. Take your time, carefully stick the athletic tape down and you'll be comfortable.
Related post on how to tape for plantar fasciitis.